February 2, 2010 by Larry · 1 Comment
SPORT OF KINGS LIVES ON
Falconry Alive & Well In Iowa
By Lowell Washburn
FT. DODGE, IA—According to Webster, falconry is defined as
the sport of pursuing wild game with trained hawks.  For centuries,
the sport remained a time honored tradition among tribal desert
nomads, Mongol chieftains, and European royalty.  But with the
invention of gun powder, falconry's popularity plummeted.  By
the late 1700s, the ancient practice had nearly disappeared. 
Nearly, but not quite.
Like a Phoenix rising from the ashes, falconry is currently
enjoying a remarkable modern-day return.  Practitioners of the
art may be closer than you think.  This past weekend, for example,
the Sport Of Kings was alive and well in Fort Dodge as members
of the Iowa Falconers Association assembled to conduct their
official winter hunt.  Although the three day, outdoor retreat
may have lacked the pageantry of the highly organized hunts led
by the likes of Genghis Chan or King Henry the VIII, it was
nevertheless clear that the passion for "pursuing wild game
with trained hawks" continues to burn.
"This is our major winter meet, and things have really worked
out well," says Iowa Falconers Association president, Steve Lohrer. 
"The weather has cooperated, there's plenty of game, and the birds
are flying great.  I don't know exactly how many people there are
this weekend but, so far, I know there are falconers from at least
three states."
"Although it is a hunting meet, a lot of people come for the
camaraderie and to see other people fly their birds," noted
Lohrer.  "We've had a good variety of gamehawks represented
— the list includes red-tails, goshawks, and peregrines. 
Falconry meets offer a great opportunity to see how other people
do things, a good chance to learn."
Among the participants most interested in seeing "how other people
do things" was Steve's dad and third year falconer, Gary Lohrer. 
"Steve has been practicing falconry for about 15 years, and I really
became interested after seeing him train his hawks," says Gary. 
"These birds [immature red-tailed hawks] are trapped from the wild,
and each one has its own temperament.  Training a bird to hunt with
you is very challenging and I enjoy that.  I still make mistakes,
but I've learned a lot."
"The hawk I'm flying now is a first year, female, red-tail that
I trapped late this fall," says Gary.  "She's the third red-tailed
hawk I've trained, and she's really beginning to understand that
if she stays close to me and the dog that we'll probably produce
something for her to chase.  Yesterday, we caught our tenth
cottontail rabbit.  We're becoming a team."             
To learn more about falconry in Iowa, visit the Iowa Falconers
Association on line at www.iowafalconer.com.
_______________________________________________________ 
Photo:  Rabbit Hawkers — Steve Lohrer of Van Meter [left] and his father Gary Lohrer, of Urbana display a cottontail rabbit bagged near Fort Dodge during last weekend's official winter meet of the Iowa Falconers Association.  The rabbit was captured by a young of the year, red-tailed hawk currently being trained by Gary Lohrer.   Photo By: Lowell Washburn
June 27, 2009 by · Leave a Comment
There has always been a lot of debate about how fast a falcon can dive in a stoop. Although this video may not put to rest the final "top speed" debate, it makes for an an interesting story.
Enjoy the view!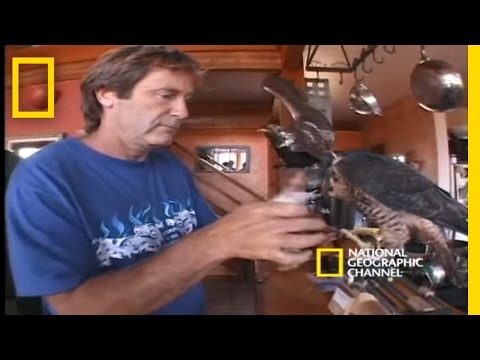 June 27, 2009 by · 1 Comment
By Lowell Washburn
An Original Victim Of DDT Pesticide Contamination, Peregrine Falcons Vanished From Historic Mississippi River Nesting Cliffs During The 1960s. Wild Peregrines Are At Last Returning To Iowa. They Have Been Removed From The Federal Endangered Species List They Helped To Create, And Are Now Scheduled For Removal From Iowa's List Of Endangered Species.
DES MOINES—Nearly a half century in the making, it was an outdoor celebration that no wildlife enthusiast would want to miss. The event took place last Wednesday as an official contingency of Native Americans, state legislators, state and federal wildlife biologists, environmentalists, falconers, and an extremely diverse group of folks who simply referred to themselves as "hawk heads and wild bird enthusiasts" gathered on the East Lawn of the Iowa State Capitol Building to commemorate the remarkable recovery of the peregrine falcon and to celebrate a proposal to remove the bird from the state's list of endangered species.
No Hollywood screen writer could have scripted it better. Within minutes of when event speakers were scheduled to take the stage, the four young falcons that have been reared on a ledge immediately above the Capitol steps, decided the time was ripe for stealing the show. Under the anxious eye of their parents, the fledglings took to the air one by one. And although one youngster was forced to make a rather awkward landing in a nearby pine tree, none of the four ended up on the ground. With the first test flights successfully under their belts, the young peregrines couldn't resist doing a series of repeat performances. The maneuvers did not go unnoticed by the binocular packing audience.
"I can see that many of you are looking up into the sky behind me," joked Senator Dick Dearden, who chairs the state's Natural Resources Committee.
"That's all right," said Dearden, as he turned from the podium to view the birds for himself. "The falcons are a lot more interesting than anything I'll have to say and are the real reason we're here."
DNR Wildlife Diversity spokesman, Pat Schlarbaum agreed that the aerial performance was indeed spectacular.
"The skies are no longer silent," proclaimed Schlarbaum. "The peregrine falcon is back in Iowa."
Schlarbaum also noted that Wednesday's gathering was nothing short of a "significant historic event".
"We've been able to maintain at least 10 active peregrine pairs every year since 2004. This year we have a total of 13 nesting territories in Iowa. So far, we've documented a total of 24 young this summer and there are three nests yet to go," said Schlarbaum. "As top of the food chain predators, peregrines have never darkened the skies and the current numbers of nesting falcons are at historic levels and continue to grow."
"This hasn't happened by accident, and there are a lot of partners who deserve credit," added Schlarbaum. "Iowa falconers [hunters who pursue wild game with trained raptors] have had a very strong interest in this project and played a key role through fund raising, securing captive bred baby peregrines, and then caring for the released birds as they learned to hunt for themselves."
"It's all paid off and the number of falcons currently nesting on artificial sites such as industrial smoke stacks, bridges, and urban structures such as the Capitol Building, far exceeds our wildest dreams," said Schlarbaum. "But the best news is that peregrine falcons are returning to the Mississippi River cliff ledge nest sites of their ancestors. I think that the real success story is on those historic cliffs."
Representatives of the Ho Chunk Nation agreed.
"Our people have strong ties to the [Mississippi River] blufflands, and the eagle and the falcon are an important part of our culture," noted Bill Payer, a Ho Chunk Tribal Elder, from Black River Falls, Wisconsin. "Seeing the falcons return is a good thing."
"We have known about the Iowa peregrine work for 15 years now, and this recovery is very important to us," added Ho Chunk member, Pam Snowball.
"The birds are important to our culture. Bringing the falcon back is a good way for us to walk. It makes our hearts good," said Snowball.
Want To See More Great Pictures Of Des Moines Falcons? Click Here…
May 27, 2009 by · Leave a Comment
By Lowell Washburn

At its monthly May meeting, members of the DNR's Natural Resource Commission unanimously approved a measure to remove the peregrine falcon from Iowa's endangered species list. The state's fastest bird is now officially listed as a species of special concern. The much anticipated upgrade is a significant milestone in the decades long recovery of what many consider to be the planet's most spectacular bird species.
The rugged limestone cliffs of the upper Mississippi River in Iowa, Minnesota, and Wisconsin were once home to mid-America's greatest densities of nesting peregrine falcons. Exceedingly swift and profoundly courageous, the raptors were highly revered by native Americans who build huge earthen effigies — some with wingspans exceeding 150 feet — that accurately depicted the birds in flight. Although the arrival of European settlers had a devastating impact on many Iowa wildlife species, peregrine falcons held their own until the conclusion of World War II. That's when "better living through chemistry" ushered in the environmentally devastating era of DDT and the dark vision of Rachel Carson's Silent Spring.
Pesticide induced egg shell thinning had soon decimated peregrine populations nationwide. By the late 1960s, only one peregrine falcon nest — located on a cliff near Lansing, Iowa — remained along the entire length of the Mississippi. When even those birds disappeared, not one single peregrine of any age or sex, could be documented anywhere from the Mississippi River to the Atlantic Ocean. For modern day, twentieth century falcon admirers, the spring had indeed become silent.
And then a couple of good things happened. In 1972, the use of DDT was forever banned. That same year, a falconer [Falconers are hunters who use trained raptors to capture wild game.] named Tom Cade successfully hatched a captive produced peregrine egg at Cornell University. That event quickly sparked the vision of returning vanished populations through the release of captively produced young falcons. The idea struck a cord and falconers from across the nation were soon donating their precious feathered hunting partners to the conservation cause.
Partnering with DNR, falconers also assumed a leadership role in the Iowa peregrine recovery, securing and preparing release sites as well as raising the $100,000 needed to purchase, care for, and release more than 100 baby peregrines into suitable habitats. Survivors of those initial Iowa release efforts, along with their totally wild descendants, have now returned to reoccupy historic Mississippi River nest sites [eyries] in Iowa, Minnesota and Wisconsin. Additional pairs claim territories on the synthetic ledges of nearby office buildings, bridges, and power company smokestacks.
Iowa's now successful peregrine recovery has included scores of volunteers and is the result of more than 20 years of planning, hard core fund raising, and plain hard work. The efforts paid off and contemporary hawk watchers can finally breathe a sigh of relief. Peregrine falcons have successfully returned to the cliff ledge nest sites of their ancestors —- including to a cliff near Lansing where that last 1960s pair existed.
But while the celebration continues we also need to be reminded that renewed peregrine populations are not something to be taken for granted nor is the falcon necessarily home free. Securing the species' future will require a constant and increased level of stewardship as well as continued environmental vigilance.
March 3, 2009 by Larry · 1 Comment
PEREGRINE SUPER STAR
ALIVE AND WELL IN DES MOINES
NINETEEN-YEAR-OLD FALCON STILL DEFENDS DOWNTOWN TERRITORY
Article and Photos By: Lowell Washburn
DES MOINES—-For any red blooded raptor enthusiast, the ear piercing wails were unmistakable. The nesting peregrine falcons were agitated.
Sensing an eminent threat to their young, the falcons lost no time in launching the attack. With ear piercing screams and high speed dives, the pair engaged in a valiant effort to defend their nest. But in spite of their bravery, the falcons were clearly outmatched. Armed with helmets, protective clothing, and miscellaneous repelling gear, the intruding humans were as committed to their mission as the falcons were to theirs.
Within the span of a few short minutes, the peregrines' four downy chicks had been extracted from their cave-like lair in an alcove at the top of Des Moines' American Republic Insurance Building. After being placed into a plastic pet carrier, the birds were hoisted to a waiting team of DNR wildlife biologists. First order of business was to collect a blood sample from each nestling. Then, after being weighed, measured, and banded, the chicks were quickly returned to the nest. Although the adults remained clearly [and vocally] distrubed by the proceedings, life soon began a return to normal for Iowa's most famous urban raptors.
Regardless of whether you're a politician or a peregrine falcon, it's hard to keep a secret in downtown Des Moines. By now, the morning's audible commotion had drawn the attentions a sizeable crowd of gawking onlookers. None were more excited than veteran wildlife watcher and peregrine enthusiast, Todd Hill.
"The day we come up here to band the baby peregrines is my very favorite day of the year," proclaimed Hill, a former employee of the American Republic maintenance staff.
Hill has enjoyed a long, and sometimes painful, association with these unique downtown residents. While working on the building's roof, he's been soundly thumped on more than a few occasions.
So why would one of America's rarest bird nesters make the Metro area its home? The answer is simple. Located in the heart of Capitol City's downtown business area, the insurance building's upper level is pocked with decorative alcoves. For cliff dwelling peregrine falcons, the concrete recesses represent the perfect place to lay eggs and rear young.
"We see all kinds of people here," says Hill. "Many bring binoculars to view the nest — especially when the young are visible. People come from all over. This has become a very popular attraction."
Peregrines first began nesting at American Republic in 1993. Since that time, the nest has become a statewide attraction, partly due to the fact that the rare birds can easily been seen and heard from nearby sidewalks and courtyards.
But there's more to this story. A central focus of the fame surrounding the site is that American Republic is also home to peregrine falcon number 93T. He's the male of the territory. A super star among peregrines, 93T is currently the best known, oldest, and certainly one of the most successful falcons in the entire history of the species' thirty-year, modern-day recovery.
Released in Des Moines as a 45-day-old fledgling by the DNR's Wildlife Diversity Team in 1990, 93T returned to claim the downtown area for his own during the spring of 1993. He's returned every year since, and has produced an incredible total of 42 young. He has outlived two mates, and is currently on territory with his third partner —- a four-year-old, wild produced female [63B] hatched at Woodmen Tower in Omaha, Nebraska.
Peregrine falcons are the planet's most dynamic bird species. Top Guns and masters of flight, peregrines feed exclusively on other birds which they obtain by means of spectacular high speed chase. It's a dangerous way to live, and wrecks can be fatal. It's easy to understand why most falcons never reach old age. Nevertheless, it is probable that during the past 15 nesting seasons, 93T [while providing for himself, his mates, and his young] has survived somewhere in the vicinity of 10,000 successful kills —- all without so much as chipping a talon.
"This bird is a real hunter and takes good care of his family," says Hill. "We find all kinds of evidence on the sidewalk beneath the nest. Most of the prey he brings in are starlings and flickers. We also see bigger things like pigeons and, once in a while, a duck. Most interesting is the really unusual stuff. The other day we found the head of a screech owl. That was surprising," said Hill.
"Watching the falcons is really exciting," he added. "Usually we just see them carry in food from somewhere else. But one day when I was leaving work, I saw him [93T] smack a pigeon right out of the air. That was the best."
"Another time I got to assist one of the young. The baby falcon had just left the nest and was stuck in a small tree in our courtyard. I called DNR and they said to take the bird back to the roof. I did, and its next flight was successful. We still have a picture of that bird on the wall in our office."
Live video of the American Republic peregrines can be viewed online during this year's nesting season. Go to the Iowa Department of Natural Resources' home page and click on "Live Falcon Cam".
___________________________________________________________
PHOTOS:
1 —- An adult female peregrine falcon [band number 63B] returns to her nest site at the American Republic Insurance building in Des Moines. The bird was unidentified until Washburn went atop the building and secured this photo late last summer. The band number revealed that the three-year-old falcon was produced at Omaha's Woodman Tower.
2 TOP GUN 93T —- With sizzling high speed nose dives exceeding 250 mph, the peregrine falcon is our fastest and most dynamic bird species. But few peregrines can match the aerial prowess of downtown Des Moines' number 93T — a seventeen-year-old, tiercel [male] currently residing atop the American Republic Insurance Building. Hatched in 1990, the falcon returned to stake his Des Moines territory in 1993. He's returned every year since, has outlived two mates, is currently with his third partner, and has fathered and raised 42 young. In the process of caring for himself, his mates, and those 42 babies — it is estimated that 93T has made an astounding 10,000 successful kills.
3 —- Peregrine tiercel, 93T patrols his territory above downtown DesMoines.
February 19, 2009 by · 3 Comments
"It's been an incredible year for peregrine falcons. We now have more peregrines nesting back on natural cliffs than we do on buildings." Bob Anderson, Director, Raptor Resource Project
WAUKON JUNCTION IOWA – Assembled along the stone base of a towering Mississippi river cliff, a hopeful collection of falconers peer skyward. Traveling from
across four Midwestern states, the congregation of raptor enthusiasts arrived in Allamakee County late last summer, all hoping to catch a glimpse of the elusive peregrine falcon alive and wild in its native habitat.
Although once listed as a common inhabitant of the Mississippi river blufflands, uninhibited post World War II use of DDT pesticides had a devastating effect peregrine populations. By the late 1960s, DDT contamination had completely eradicated the species in Iowa as well as from the entire eastern half of the U.S.
But times are changing. Thanks to an aggressive conservation effort spearheaded by Iowa falconers, this dynamic species is currently staging a dramatic comeback.
For those possessing patience and a good pair of binoculars, the chance of seeing a modern-day, free flying peregrine is all but assured. For last summer's peregrine watchers, the wait was amazingly short. The first falcon was spotted within six minutes.
"Here comes one now," announced Raptor Resource Project Director and Iowa falconer, Bob Anderson. Based at Decorah, Anderson's Raptor Project has long aided in the peregrine's recovery and is currently monitoring the bird's return to historic Mississippi river nest sites.
As if on cue, the speeding falcon turned and then passed directly above the earthbound onlookers. Raising his binoculars, Anderson quickly confirmed that the bird was a young-of-the-year male, one of three youngsters produced at the Waukon Junction cliff this summer.
"This has really been a remarkable year for peregrines," said Anderson. "So far, we've documented peregrine activity on 23 separate Mississippi river cliffs which is a gain of 5 new territories over last year."
"It really is amazing. Less than ten years ago, there were no peregrine falcons nesting on natural cliff sites, but all that has changed," said Anderson. "Today, the cliff birds outnumber the 'city falcons' that nest on skyscrapers and other [urban] structures. The ultimate goal of this recovery has been to return falcons to historic cliff sites, and now they've accomplished that."
But although there is ample cause for celebration, Anderson cautions that modern-day peregrines are not necessarily home free.
Midwestern peregrines have been the most studied bird population in the U.S., notes Anderson. Falcons nesting on natural cliff ledges are exposed to 'real world' hazards. By analyzing data obtained from ongoing leg band readings, Raptor Resource Project observers are discovering that Mississippi river peregrine populations have a much faster turnover than their longer lived urban counterparts.
"When first attempting the river recovery, we assumed that great horned owls would pose one of the greatest threats to peregrine survival," says Anderson. "We were wrong. Instead we've discovered that peregrines are more than capable of dealing with the danger of horned owls. Adult peregrines will also show aggression toward birds like red-tailed hawks and bald eagles, and will drive them away from nest sites. But show peregrines a horned owl, and the aggression becomes intense. They just turn into Tasmanian devils, and owls don't stand a chance of taking their youngsters. Right now, rain and raccoons seem to be the limiting factor on peregrine eggs and young."
Included among last year's crowd of Hawk Heads was Ross Dirks, master falconer and
owner of Northwest Iowa's Dickinson County Animal Clinic. A charter member of the Iowa Peregrine Falcon Recovery Team, Dirks actively sponsored the release of young peregrines to Mississippi river blufflands.
"This is just an incredible event," said Dirks. "Now I can say that I've actually been to the Mississippi river and have seen wild peregrines nesting on a natural cliff in Iowa."
"When the river recovery work began, we all knew that there would be risks and no one knew for sure if this could work. But now, the peregrine falcon has returned."
"To have this species back on historic cliffs in Iowa is just an amazing accomplishment," Dirks added. "It's simply amazing."
A peregrine falcon chick surveys its surroundings from atop a Mississippi river cliff ledge. As a direct result of efforts of the Iowa Peregrine Falcon Recovery Team, wild peregrines are currently returning to recolonize historic eyries up and down the upper Mississippi.
During 2008, expanding falcon populations established a new modern-day record. The falcons' successful restoration to natural cliff sites is the direct result of efforts of the Iowa Peregrine Falcon Recovery Team. Comprised largely of Iowa falconers, the group's raised more than $100 thousand from 1998 to 2000. The funds were used to construct and maintain hack sites and for the purchase and release 117 captive reared, young peregrines.
Article and photos by: Lowell Washburn
September 17, 2008 by · 1 Comment
Stay up to date on all kinds of news regarding Iowa falconry.
You can get updated anytime we add something to the site by clicking on the tag in the top right hand corner of the website.
Stay Tuned!